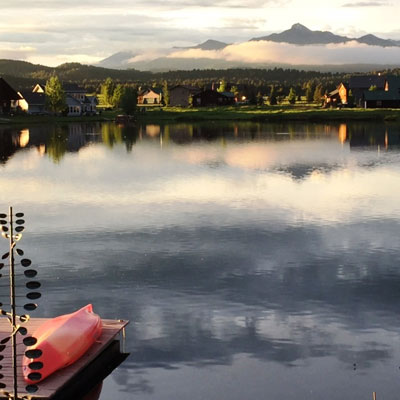 Ah…Paradise in Pagosa Springs!
Imagine mountains with snowcapped peaks…in July.
Imagine rivers and streams teeming with rainbow trout.
Imagine taking a hike in the National Forest..and never seeing another soul.
Imagine adventure…mountain biking, hang gliding, skiing, snowmobiling, music festivals, hot-air ballooning, river rafting, golf, backpacking.
Or imagine peace, quiet, solitude. Welcome to Pagosa Springs. At first glance, one would think that Pagosa Springs is like any other Colorado mountain town. Not so. Walk down Main Street and people will smile at you, make you feel at home, welcome you. This is a town where people work and play together in the spirit of cooperation. A town where you know your neighbors, where people wave to you as you cross the street and call your name at the grocery store. A place to raise your children, start the business that you've always wanted or just kick back. Does this sound like a place that you want to call home? I thought so.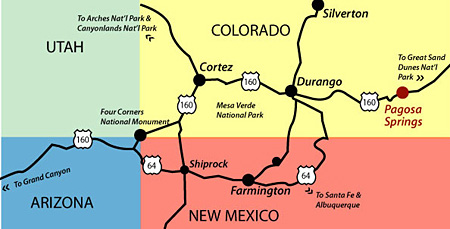 Located near the New Mexico, Colorado, Utah and Arizona borders, Pagosa Springs is the perfect launching point to discovering the Southwest. Pagosa real estate is as diverse as the terrain itself.
Pagosa Springs is located in Archuleta County which covers almost 1400 square miles of mountainous or hilly terrain. Our elevations range from 7000 feet in town to 12,600 at the top of Pagosa Peak. Surrounded by the San Juan National Forest, Pagosa Springs also lies in the San Juan River Valley with stunning views of the San Juan Mountains. The San Juan River as well as three major tributaries (the Piedra River, Rio Blanco, and Navajo River) also run through the county. As a result, we have incredible fly fishing opportunities!
Additionally, the Pagosa Lakes area features 5 stocked lakes while Navajo Lake, the Lake Powell of Colorado, offers a myriad of fishing, boating, jet skiing, and water skiing opportunities!
Panoramic mountain views at every turn…300+ days of sunshine…clean air…What are you waiting for?